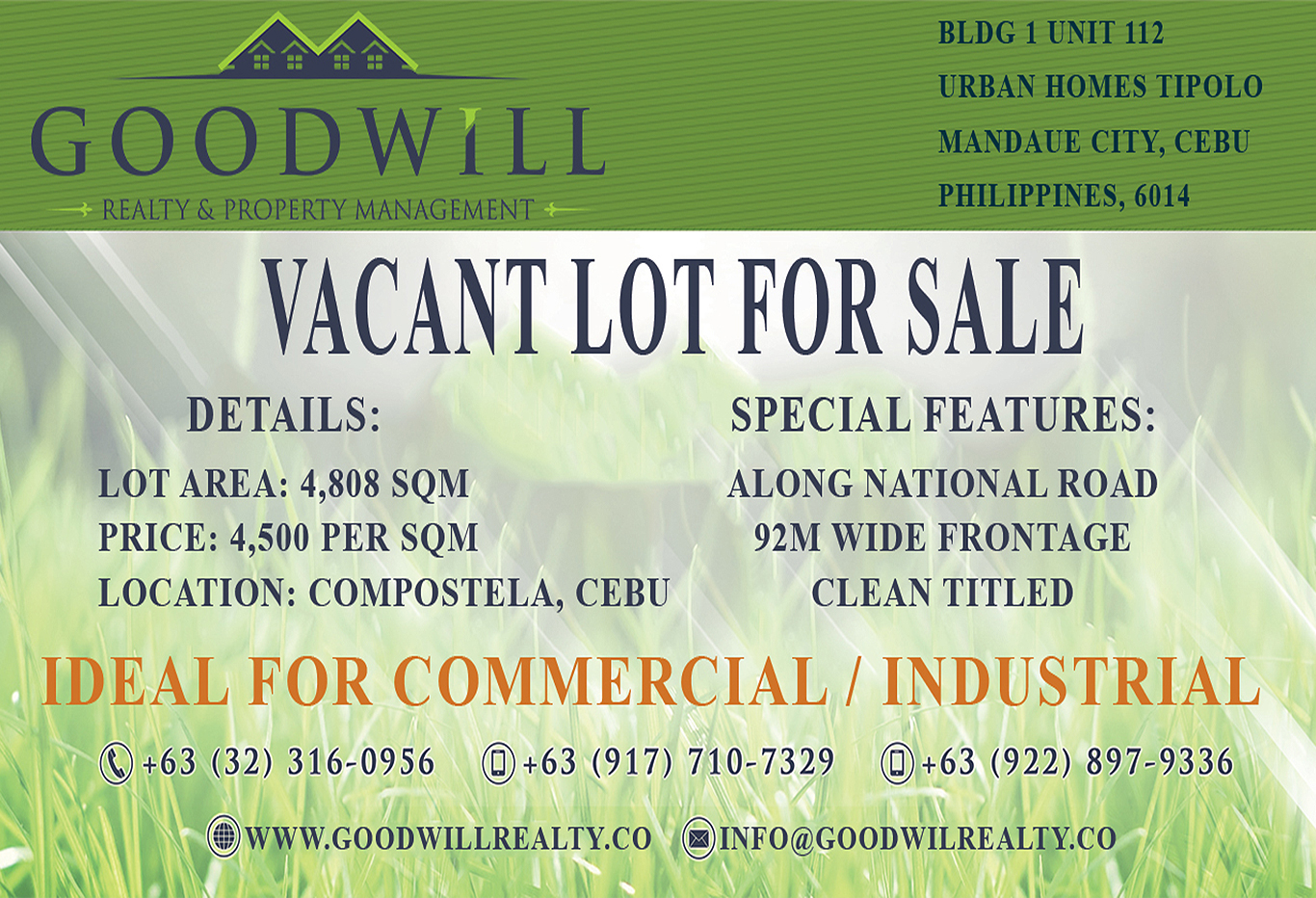 Commercial Land in Compostela Cebu
FOR SALE: Commercial Land in Compostela Cebu
Compostela Land prices have been quickly rising since the start of the developments of residential communities in the municipality like AMOA Subdivision, Richwood Homes,  and commercial establishments like AMA Plaza, green lagoon, and the widely renowned  QPark, where flocks of people visit the place every holy season every year.
Compostela, Cebu is a Municipality about 45 minutes to an hour drive from Cebu city's central business district, where all the necessities for all the walks of life day to day living are just nearby, like malls, wet markets, government agencies, schools, etc.
This Land is ideal for Industrial or Commercial Use.
It has a 92 meters wide frontage facing the National Coastal Road, with a total bounded area of 4,808 square meters, and has a clean title.
Price is 4,500 per sqm net from taxes.
This property is too good to last... Inquire Now!!!
Check the alternative vacant land listings in Compostela, Cebu
Property Overview
Title Status:
Clean Titled
Classification:
Commercial

Engr. Junfe Parcon
Affordable House and Lot for sale in Consolacion Cebu
Lot Area: 260m²
Floor Area: 310m²
Affordable Preselling Studio Unit Near Cebu City Universities
Floor Area: 27.38m²
Bed: 1
ELEGANT FURNISHED HOUSE AND LOT IN TALAMABAN
Lot Area: 119m²
Floor Area: 250m²
Bed: 5
Studio Condo Unit in Be Residences Lahug
Floor Area: 24.50m²
Bed: 1
38 PARK AVENUE STUDIO UNIT FOR SALE!
One Bedroom Unit in Azalea Place Cebu Condominium in Gorordo Avenue, Lahug Cebu City.
STUDIO UNIT IN MANDANI BAY FOR SALE
Floor Area: 29.75m²
Bed: 1
Land for sale in Agusngot, Cebu City, Cebu. This agricultural property is located at Agsungot, Cebu City, suitable for farming crops and fruits. 
Brand New Fully Furnished House in Alberlyn Boxhill Subdivision, Mohon Talisay City Cebu.
Lot Area: 101m²
Floor Area: 100m²
Bed: 3